Lights, Camera, Action!
Certainly, I am no culture vulture. Nor do I belong to the lofty, aristocratic, arty-fartsy sorts that delve into the intricate details of each masterpiece.
Nevertheless, I do indulge myself in dollops of the local arts scene. If I were to attend any theatre plays in Singapore, I always have a preference for local productions. My reasoning is that, if I wanted to catch popular overseas plays like "The Wicked", I jolly well catch it at Broadway itself. The local productions such as
Magic Fundoshi
and
The Little Shop of Horrors
were quite delightful, offering humor probably only we, Singaporeans, can identify.
Anyway, seemingly, our little (boring) red dot of an island is gradually steaming up in the cultural scene. First and foremost, my varsity is holding its
annual arts festival
with an avalanche of events.
It looks pretty interesting. The inner and well-hidden rock music appreciator in me was a little disappointed that I missed out on Electrico's performance. I think they are a terrific local band.
I was pondering upon attending Olivia and Friends for some bossa nova indulges, but I gave it a miss anyway. Oh, bugger.
Okay, so, probably the only dosage from NUS Arts Festival will come in the form of acapella performance at Amplitude'07 within the compounds of the University Cultural Center this Sunday evening then. Don't forget our date,
babe
.
Meanwhile, there are many other cultural events to take your dates to.
I was rather intrigued by the
Crystal Mirror
.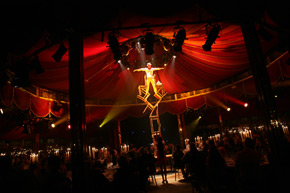 From the pictures, the setting looks resplendent and luxurious, replicating the style of an antique "Mirror Tent" from the 1920s with acrobats, singers, comedians, musicians and eccentric wait staff. Apparently, a 4-course gourmet dinner will be served, as well. Of course, the prices are quite exhorbitant and I wonder if they are worthy at all. Hmm.
The all-time favorite Phantom of the Opera is also currently playing. Apparently,
the crashing chandelier is a favorite with the audience
. Sadistic bunch of people, aren't we?
Last but not least, there is the very fiesty Pam Oei fronting the local production,
Titoudao
. There is Kumar in it so I bet it is gonna be hilarious!
Now, whoever said Singapore is boring?