Bustling Weekends
Last weekend was a chockful of good food with all the Mother's Day celebration.
Firstly, for grandmama's birthday, we reserved 3 tables at Peach Garden, a Chinese Restaurant with food served in a fine dining sort of way. Alas, my grandmama doesn't really appreciate fine dining and found the gesture of them steaming each individual pot of shark's fin too cumbersome and unnecessary.
Grandma loves her peachy buns!
Michelle tucks into the cold dish platter.
The 10-course dinner lasted a long time, starting at 7pm all the way till 11ish.
Me, Michelle, Grandmama and Marcus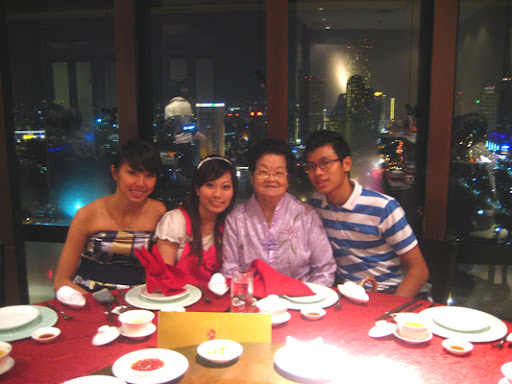 Besides the very sumptuous meal that ended deliciously with my favorite chinese dessert of Mango Pomelo Sago, we had to devour a whole ice cream cake too. Oh, the gluttony.
Mango Pomelo Sagoooooo.... mmmmm.
As if a Saturday's of dining feast wasn't sufficient, my brother and I decided to take my mum out for dinner for Mother's Day as well. We went to an
ulu
restaurant known as Friends at Jelita, serving western (wannabe) fine dining at rather chic settings.
Mummy and me
Rocket Salad to start
My dad and I had steak, my brother had chicken and Mummy had her usual spaghetti. The food was not too bad, but a tad overpriced because it is a day for maximizing profits from poor children like us.
The desserts were pretty good. Lava cake with sinful dosage of chocolate sauce oozing out...
Mummy's creme brulee was pretty awesome too.
Ta-dah! The Lais.
Besides some of the food, I had some fun over the weekend too. Last Saturday, some colleagues and I went down to Orchid Country Club for a session of paintball. Man, I didn't know paintball can hurt that much. I am still nursing bruises from last weekend!
One was so huge, I have christened it
Bruce
.
Goggles will save your life!
I borrowed my intern's army uniform because I heard from others that the paintball might tear your bare skin.
How ah? I think we are going to die.
Gonna die still so happy ah?
Act garang only
Our mission was to hit our opponents targets and retrieve a box near the opponent's territory.
Paintballs that are hard like marbles, being shot out at 300 feet per second.
Apparently, the guy who is tasked with the job of retrieving the box always get shot at the most. Both Kenneth and Ming Keong, who were attempting to retrieve the box, incurred injuries beyond bruises. Kenneth got a bleeding cut on his neck because a paintball was shot at his neck. Since he didn't button his army uniform, the impact was so great it broke his bare skin.
Tired sia
Presenting... the A*STAR paintballers!
***
Following my
Linzer Torte
attempt, the simple recipe was apparently very popular amongst my colleagues and friends. Sandy decided to come over and bake the tart as well, lugging Alan along as her manservant.
Sandy spreading the jam on the dough
Presenting, our nicely-browned Linzer Torte!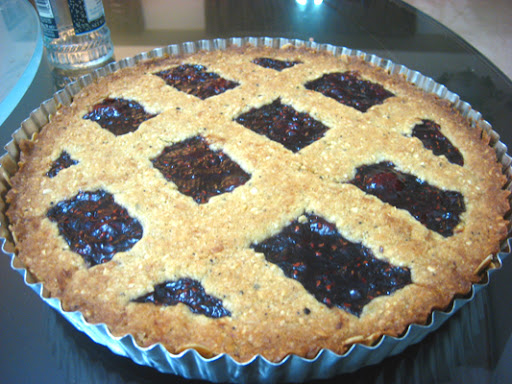 Yums.
Besides the linzer torte, we decided to attempt another recipe. After searching online and overloading Sandy with a list of potential confections ranging from French Apple Tart to Chocolate Chip Cookes, Sandy decided we should begin from our previous failed biscotti attempt.
As such, we settled on the
Chocolate Almond Biscotti
.
The learning points of this baking attempt was that Biscotti is really tedious to bake, as compared to the easy-but-delightfully-delectable Linzer Torte.
The dough of the chocolate biscotti looks like crap.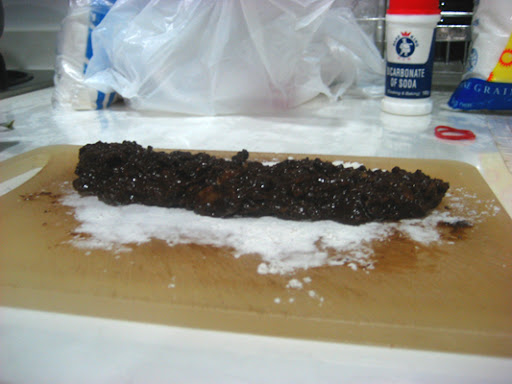 Yes, it does. And it feels like crap too. As I was moulding the eeky stuff, Alan was making gross comments on it
Ahhh! Crap on my hands!
Biscotti Logs in baking...