Moin moin and other updates
Hallo hallo! I'm still alive!
Surprisingly, I still receive random messages occasionally to chide me for not updating my blog. I realize the blog still remains an effective medium for my friends to keep abreast of my happenings, not that there is much anyway. Working life can be pretty tiring! Sleep is a pure luxury I treasure on weekends, mmm-hmmm. So, a shout-out to all my beloved reprimanders:
I'm updating my blog, yes I am
!
On the latest news, I have just finished an enjoyable 5.6km run with my fellow colleagues for the JP Morgan run. It is different, competing a short run to a longer distance because for the latter, you have to pace yourself. I realized if you try to sprint (or at least run quickly) for 5.6km, it can be pretty exhausting too.
Warming up
We were being prompted to shout
'A-STAR!'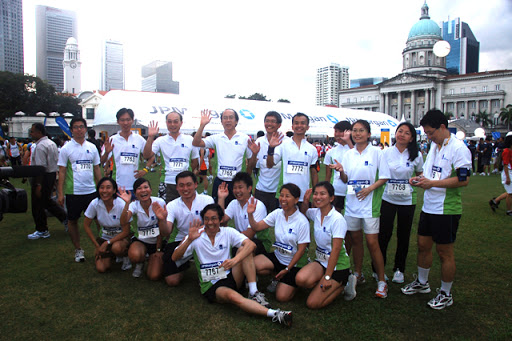 After the run
I was 5th in my company to arrive. My boss was the first, followed by a female Caucasian Boston Marathoner, 2 male colleagues and me at 31 minutes. 'Tis a good team bonding session, definitely.
A more noteworthy event was of course, my vacation to London/Germany planned by my personal tour operator, Felix. I haven't taken a vacation since I have started work so it was definitely a much looked-forward fortnight.
After much anticipation, I finally arrived at London Heathrow, defeating the many questions at the very sombre customs.
No, I do not wish to illegally immigrate to London, thanks very much. I love Singapore.
For the 100th time, I'm here for a vacation!
Nevertheless, Felix sweetly welcomed me to the sombre city with Krispy Kreme (yay!) and a rose.
And since it was his birthday 2 days ago, he got himself a birthday muffin from Singapore too!
Then, the adventures in London began with a refreshing walk at Hyde Park.
Aw, pretty duckies...
Of course, there were the perfunctory visits to touristy spots such as Buckingham Palace, Westminister Abbey, Trafalgar Square, Harrods, etc...
After a hectic tour, I was pretty exhausted by late afternoon and was scheduled to return back for dinner with Felix's houosemates.
Flo and Betty set up a wonderful welcome dinner with an awesome spread of food.

Ta dah!
All we had to do was to appear.
Betty is from Ethopia, Flo and Felix are from Germany and I am from Asia. So.. it is pretty much the United Colors of Benetton under one roof.
A precious welcome. Danke, meine Prinz!
The second morning of London, we were greeted with blanketing snow.
Thankfully, we decided to snooze a while longer and it doesn't hurt to have a personal chef whip up a sumptuous breakfast for me.
Wah
We braved the snow to Canary Wharf to meet up with Isabelle. Along the way, we attempted to be artistic.
Wazzat?
Despite the cold, we boldly embarked on a cruise down Thames river to view the toursity monuments along.
Ah, the legendary Tower Bridge
The London Eye
Good ol' Big Ben
After a breath-taking cruise, it was enroute for a meetup with my old friends Isabelle, Rebecca and Ian and attempt to integrate my Singaporean and American friends.
Aiyor, safe to eat a not?
Third morning in London, I was greeted once again by a sumptuous breakfast by my wonderful chef.
We decided to walk to the tube station instead of hitching a bus ride. Along the way, I cajoled Felix to attempt Limbo Rock.
Ah, I love walks in the parks. The smell of the grass, the crispiness of the air... Mmm...
For the day, we visited the Tate Modern museum.
We browsed through the art, pretending to ooh and aah at the contemporary pieces.
Across the Millenium Bridge we go, towards St Paul's.
We actually planned to lunch in a restaurant but after I entered Mark and Spencer's, I was so impressed by their packed lunches we decided on having a picnic by St Paul's with a variety of Mark and Spencer's packed lunches. It was cold, but very enjoyable indeed.
Felix unpacks the goodies!
By the time we finished lunch, I was freezing and we had to defrost over Hot Chocolate at Pret-a-Manger.
The night ended with a musical "Wicked". The play was pretty enjoyable but at some parts, jet lag set in and I dozed off a little. Nevertheless, still thumbs up! I have always wanted to catch it and am glad I was finally able to do so.
The fourth day, it was Goodbye London and Hello Germany. We had to pack and hitch a bus ride to Stanstead Airport where we will embark on the flight to Billund Airport to meet Felix's parents.
On bus to Stanstead
His parents extended a very warm welcome to Billund. Of course, at the extremely
ulu
airport of Billund, I had a difficult time at the customs again.
"
I don't think I have ever seen a Singaporean passport in my life
," quipped a white-bearded custom officer.
A 2-hour drive that spans from Denmark to Flensburg, listening to Mrs M updating us about neighborly gossips, munching on very tasty sandwiches and salads lovingly prepared by Mrs M, and finally, we are back at Felix's home sweet home.
Flensburg is a very peaceful and picturesque town. Before the sumptuous dinner prepared by his mum, we took a brisk walk at the woods near his home.
It was extremely pleasant, occasionally greeting fellow strollers with a "
Moin moin
!" (a local greeting), and even seeing a lady walk her horse.
Sunset at Flensburg
Since Mrs M is a half Austrian and accordingly, Austrians are extremely adept in making pastries, herein lies the best tart I have ever tasted.
I had a bit of the tart for breakfast and dessert everyday until there is none left.
The next day was spent exploring Flensburg, where Felix shared his childhood memories and showed off all the schools he has been to. We sauntered towards downtown Flensburg, with me stopping to be impressed by their ultra-fun playground.
Ahoy!
An extremely long slide...
A farmer market's at Downtown Flensburg
An apparently popular cartoon character in Germany with the same moniker
Felix chooses an orchid plant to surprise his Mummy...
We drove on to a neighboring town of Glucksburg.
Here, duckies, duckies...
The woods of Glucksburg
Ta dah!
Glucksburg. I think Gluck means Happy or Lucky.
We emerged from the woods for some ice cream. Yeah!
We rested by the beach baskets with our ice cream. The beach basket is, according to Felix, a rather German tradition. People usually rest a beach basket to sun tan while blocking the cold winds.
The enjoyable evening continued as Mrs M prepared a delectable spread for dinner.
Papa M, Mama M and Baby M
:P
After a good night's rest, we were headed for Husum, the Ms' vacation home in a town 45 minutes drive away.
Ah, Husum!
The Husum house is sort of an interior design project for his parents. I must say, they are pretty good.
We took the bikes and explored the town of Husum.
There was plenty of meadows, blue skies - a pretty rustic atmosphere and I could get up close and personal with all sort of cuddly farm animals.
Felix feeds a bison.
How the bison see like that?
I am very tempted to help him snip his fringe off.
Come, let me cut your fringe for you...
Near the sea, there is a vast expanse of green grass. It is rare for me to be somewhere where I can glance across the entire expanse with nary a building in sight. I must say, it was quite a liberating and refreshing sight.
Lambs were grazing lazily, sun shining merrily, isn't it a wonderful world?
Beach baskets by the sea...
Savoring the Husum sunshine...
We cycled to downtown Husum, where I savored an extremely palatable shrimp burger for tea.
We shopped around downtown Husum, picking gifts and putting together a gift for Mummy M. On the way home, Felix decides to show off his bike stunts.
Yawn
. ;)
For dinner, we decided to visit the supermarket and grab some groceries for cooking. Papa M and Mama M have gone back home to Flensburg, meaning dinner will be left to our own.
Of course, since I am quite the kitchen retard, I left the entire culinary mission to the head chef, Mr FM!
I got assist, okay?
Mainly, he assigned me with cutting onions, tomatoes and mushrooms only. Bah!
Wah
, the chef knows how to set the ambience for food too.
Presenting.... our dinner!
The assistant chef and the head chef
The next morning, I decided to cook breakfast for a change. Note his dreaded expression as he testily consumes the food.
I hope I don't die from eating this.
We began the morning with bicycle tours once more. Fresh, crisp air. I likey!
Felix feeds the billy goat.
A tug of war with billy goat
Felix feeds the black stallion.
We rest our weary feet and rewarded ourselves with Sundaes at downtown Husum.
The ceaseless horizons
We monkeyed around, amidst the vast expanse of lands.
Fossilized Star Fish, How pretty!
Whee!
It was extremely relaxing in Husum. We had one of our meals at the terrace on a sunny afternoon and it was really enjoyable.
Mucking around the lawn in the bedroom slippers...
I get to be taller for once!
After a few days in Husum, it is back to Flensburg.
Germany's Burger King serves beer!
A walk at Flensburg Harbor with Papa Momsen after dinner. Mr Momsen is very entertaining with his animated gestures and narrations of Flensburg history.
The final morning at Flensburg was spent at the pier once more, having a quaint brunch at a cosy restaurant.
In the afternoon, his mum bade a teary farewell as his Dad drove to send us to the airport, onroute back to London.
The journey to London Stanstead and transit to Heathrow was an agonizing one as I reluctantly accepted the fact that I was to be thrown back to the reality of work once more.
Oh well, to the next vacation and beyond!
(What an extremely long entry!)